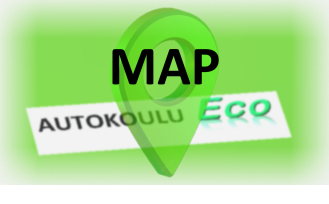 Exchange your driving license
EXCHANGE LICENSE -PACKET = 299,00€
3 driving lessons and use of a car in a driving test
The driving test can only be done with a driving school car with teaching pedals on the teacher's side. In a case when you need to do the driving examination, you can rent a driving school car from Autokoulu Eco. It is possible to take the driving test at the test places in Espoo, Vantaa, Helsinki, Järvenpää and Lohja.
In some cases, you must do a Risk Awareness course before you can take a driving test. The course includes 4 theory lessons, driving training in the dark and slippery and also driving evaluation in city and highway.
You can also buy driving lessons to help you pass the driving test. You can buy the Ajokaista.com -theory training program from the driving school. It also includes an e-book.

---
Some facts
In order to get exchange without the driving examination, you must exchange your driving licence within two years of becoming permanent resident in Finland and before your Contracting State licence expires.
You may drive in Finland on the basis of a licence issued in an EU or EEA Member State, for as long as the licence is valid.
If you have received a driving license after moving to Finland, you cannot exchange your driving license. But in this case you can take a driving school course and exams and get a Finnish driving license.
You can take a driving test with a manual or automatic car. If you take the test with an automatic transmission, you will only be allowed to drive with an automatic transmission. The driving test must be taken in a driving school car.
Price list:
Driving school training include VAT tax.


---
EXCHANGE LICENSE -PACKET = 299,00€ (norm. 335,00€)

3 driving lessons and use of a car in one driving test in Espoo
+ driving test fee for Traficom/Ajovarma Oy 99,00€ TOTAL = 398,00€

Call to driving school 050 5525198 or send email: sami@autokoulueco.fi

---
Driving lesson with car (training time is about 50min.) = 72,00€
Driving lesson with simulator (training time is about 50min.) = 39,00€
ECO-OPTIMUS6 (include 6 driving lessons) = 370,00€


Risk awareness course = 249,00€
4 theory lessons, simulator driving training in the dark and slippery. And also driving evaluation in city and highway


Use of the car in driving exam:
- With out driving lesson before the test in Espoo = 119,00€
- With one driving lesson before the test in Espoo = 179,00€
- With one driving lesson before the test in Vantaa or Helsinki = 189,00€
- With one driving lesson before the test in Lohja or Järvenpää = 219,00€
+ driving test fee for Traficom/Ajovarma Oy 99,00€


Training program for theory test (3 months training) = 18,90€
You can also buy Ajokaista.com from here: www.ajokaista.com/opetuslupa